August update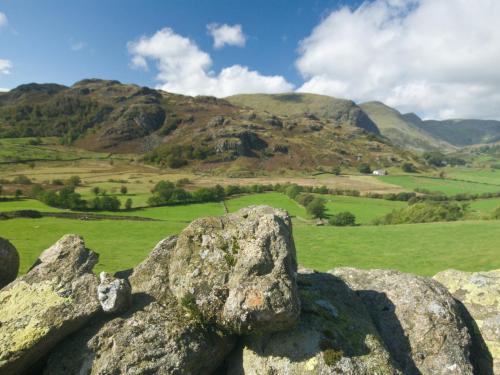 Seven weeks after opening, and operating under the 'new normal', we're delighted that our guests continue to rate their stay with us highly. The staggered breakfast in the Dining Room is working, enabling the early starters to have their breakfast and get on their way, whilst those joining us for the second sitting are enjoying a more leisurely start to the day.
Each of the breakfast tables have their own space and 'breakfast bubble' and we have continued to offer our full breakfast menu; the homemade muffins are proving particularly popular as takeaway items for a mid-morning snack! Our room service trays are also proving popular with our homemade barmcakes, filled with a choice of sausage, bacon, egg or halloumi, providing a filling breakfast for those Lake District walks.
Our guests are appreciating that their rooms are a safe space for them as we are not doing our usual room servicing but instead are offering a bespoke refresh of requested items daily. Common areas are cleaned twice daily and we're pleased that guests have commented that they feel safe in the Lodge.
As more restaurants, cafes and bars open up, our guests are finding it easier to find somewhere to eat. Some are asking for reservations whilst others are operating a walk-in service; we continue to recommend that you phone in advance if there is somewhere that you particularly want to visit. This is the same for attractions as well, most of whom are operating timed tickets and require advance booking.
The Lake District is its usual glorious self and although the tourist hotspots are busy with the pent-up demand from lockdown, there are still many places to go for some peace, solitude and gorgeous scenery. We look forward to welcoming you to Ivythwaite Lodge soon.
Andrew and Abigail, Ivythwaite Lodge
VAT - reduced rate for hospitality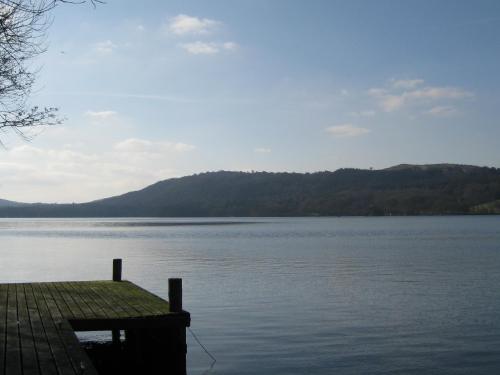 We have spoken to a number of guests/potential guests regarding the recent cut in VAT to 5% for businesses in the hospitality sector. I include below a summary of how this affects businesses across the sector. As a small business with a modest annual turnover, we are not VAT registered. We, and as a consequence our guests, do not benefit from this measure. Larger hotels and brands with multiple hotels do benefit.
Non-VAT registered hospitality businesses
Annual turnover below £85,000. Pays VAT on all supplies and services. Does not charge VAT to guests. Does not pay VAT to HMRC.
A reduction in VAT payable to HMRC does not affect non-VAT registered businesses.
VAT registered hospitality businesses
Annual turnover in excess of £85,000. Does not pay VAT on supplies and services. Charges VAT to guests. Pays VAT to HMRC.
A reduction in VAT payable to HMRC reduces annual costs for VAT registered businesses.
AA Covid-19 Confident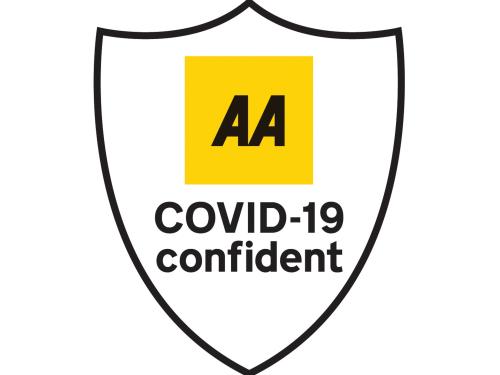 In addition to our successful application to the VisitBritain 'We're Good To Go' industry standard scheme, we have today been awarded 'AA Covid-19 Confident' accreditation.
It's great to be back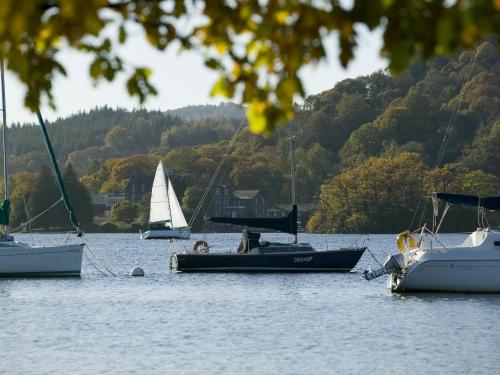 We are delighted to be open and welcoming guests once again to the stunning Lake District. Our first weekend guests have now checked out. Feedback was very positive, as evidenced by the review from Liam and Claudia from London who posted the following 10/10 review on Booking.com.
Perfect Guesthouse for a relaxing stay .
We really enjoyed our stay here and couldn't have asked for a better place to stay after 3 months of lockdown! Location is great, walking distance to centre of both Windermere and Bowness but nice and peaceful. Abigail and Andrew were perfect hosts and very friendly and accommodating. It was also comforting to see the measures they have put in place to protect against Covid-19 and everything was spotless and regularly sanitised. The room was big and comfortable and our bathroom with the jacuzzi bath was perfect after a long day's walking! Breakfast each morning was delicious and really good value, and the muffins in particular were delicious! We couldn't think of anything which would have improved our stay and we will definitely return!
Covid ready steps
We have been working with VisitBritain to ensure that Ivythwaite Lodge is taking all necessary steps in advance of re-opening on 4th July.
We have submitted our plans to VisitBritain who have assessed them against industry best practice.
We have applied to the VisitBritain 'We're Good To Go' industry standard scheme - our application has been successful.
We have made some changes to our usual practice and these are detailed below:
We have removed any additional soft furnishings such as bed throws and cushions.
We pride ourselves on our high standards of cleanliness, however, we are now using an anti-viral spray on all soft furnishings in the room between each guest, in addition to the usual disinfectant on all fixtures and fittings.
The bed linen is sent to a commercial laundry for cleaning where it is boil washed.
The towels and bed protectors are obviously changed between each guest and subject to a high temperature wash.
The room information leaflet and all items in the hospitality tray are new to you.
The common areas in the house are cleaned twice daily and we would ask you please to be aware of other guests and to maintain your social distance in these areas.
We have removed all tourist information leaflets and instead encourage you to use Cumbria Tourism's website for links to all attractions. However, we do still have copies of leaflets so please just ask if you would like one. Andrew also has a good collection of recommended walks and guide books which you are welcome to borrow if you wish.
Government guidelines state that handwashing is key and that soap and water is the best way to do this. We therefore ask you please to wash your hands before you leave your room. We have provided antibacterial gel in the dining room for those who are eating breakfast with us.
There are other things that we are doing behind the scenes to try to ensure that you have a safe stay with us, but we believe that you are here to relax and enjoy yourselves so have just given you the highlight here. If you would like any more information or clarification, please just ask us.
Andrew and Abigail, Ivythwaite Lodge, July '20
Silver award from Green Tourism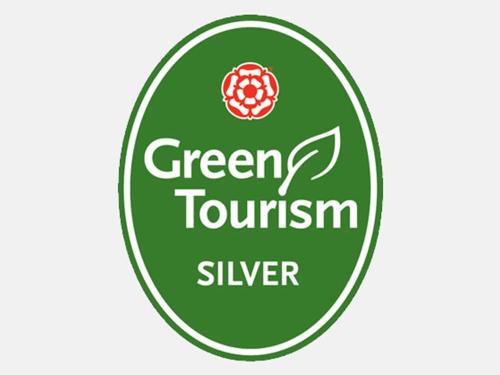 We are delighted to have secured a silver award from Green Tourism in recognition of our sustainable practices. We are fully committed to working with the knowledgeable staff at Green Tourism on our journey to greater sustainability.
Statement from Green Tourism -
Ivythwaite Lodge has done an excellent job achieving the Silver Green Tourism award following on from their first
Green Check assessment. The website has a good section called Eco that talks about their commitment and the 10
steps. In addition, there is some fantastic information on walking and cycling routes in the area. The Lodge is LED equipped,
they have installed a Hive system to help monitor and control the heating, and it was great to hear their average
temperature is (very slightly) below that of others in the area. To encourage the use of public transport they can store luggage on
arrival and departure. Breakfast showcases the local delights the area has to offer and includes some homemade
items such as bread, cakes etc. This is just the beginning of their journey and I have sure Ivythwaite Lodge will
continue to increase their score and move up the award levels.
Open on Saturday 4th July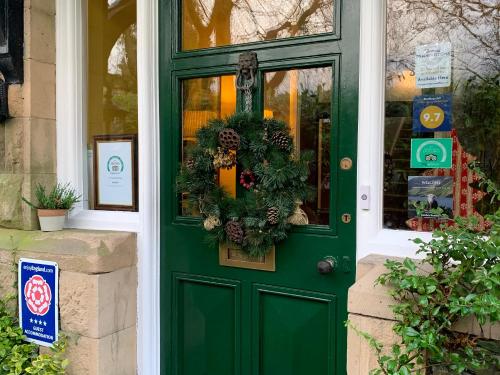 We are delighted to open our guest house from Saturday 4th July. We are working with the AA, Visit England and Cumbria Tourism to ensure we are fully Covid19 prepared and are taking all necessary precautions, both prior to opening and while guests are with us. We will publish full details of these measures before we open. Do please call us on 01539 488914 if you have any queries or questions.
Gift Vouchers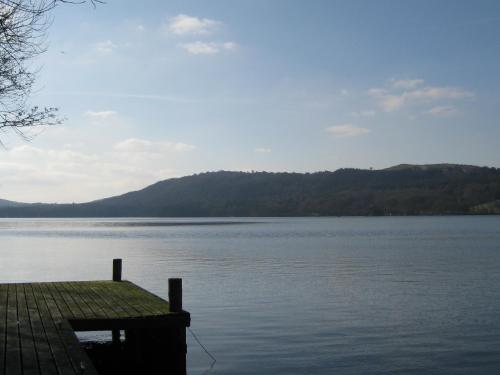 We offer a range of gift vouchers if you would like to treat a loved one to a stay in our traditional Lakeland guest house. A number of previous guests have purchased these recently and are giving them to friends and family as something to look forward to when we're able to move around more freely.
They last for 12 months from the date of purchase, although this can be extended in certain circumstances, and can be for any number of nights (with a minimum of two) in any of our five individually styled bedrooms. Prices vary according to room and date.
We also offer gift vouchers to enhance any stay and these can be purchased as a surprise for your partner, or to treat family and friends who have made a reservation with us. These gift vouchers start at £15 and can be personalised, but typically contain flowers, locally made chocolates and other luxury items.
Andrew and Abigail, June '20
Covid 19
As lockdown is easing, and hospitality has been told that if all goes well, we should be able to open from 4th July, we're getting excited to welcome our guests back to the Lake District. Whilst we don't know an exact date for opening up yet, we're doing as much as we can to prepare.
We're waiting for guidance on a range of issues but in the meantime, we're thinking about how we can maintain our warm welcome and personal service whilst ensuring social distance. We're sticking with our hospitality trays in the room and homemade cake on arrival but we have removed extra furnishings from each of our bedrooms. At the moment we're wondering whether a daily refresh of the rooms is the right thing to do, or whether our guests would prefer to keep their room private to themselves for the duration of their stay; and we're considering how best we can do check in and check out.
We receive lots of lovely comments and reviews on our breakfasts so we're considering different breakfast options for our guests. For those who would like a traditional cooked breakfast, we've rearranged the dining room so that all tables are 2m apart and we're going to introduce time slots so that it never becomes too busy in there. We know that other guests may prefer not to use the dining room so we are investigating a breakfast bag to be delivered to your room instead. We're also making all rooms available on a room only basis if you would prefer not to take breakfast at all.
We'll keep you updated as we find out more and look forward to welcoming you to Ivythwaite Lodge very soon.
Covid 19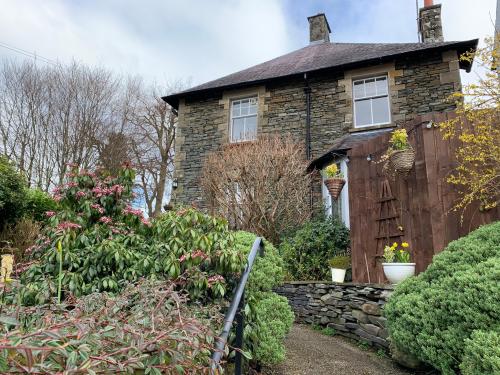 Our guest house is temporarily closed following government guidelines. Whilst we are missing our guests and longing to share the beautiful Lake District with you, we will always follow government advice about when it is safe for us to re-open. Please follow us on Instagram, Twitter and Facebook (via the links at the bottom of the homepage) for our most up to date information.
We would like to say a big thank you to all of our guests who have taken the time to send us their best wishes during this difficult time and our thoughts go out to all others who are finding this a challenging time. We are also extremely grateful to all key workers for everything they do.
When we are able to re-open we will be making some changes to our normal practices to ensure that we all stay safe. Whilst we pride ourselves on our cleanliness, something which is routinely reflected in our reviews, we will take some extra precautions to ensure that all rooms and public areas are deep cleaned and disinfected frequently. Depending on government guidelines, there may need to be some changes to our normal breakfast service; but please rest assured that we will be doing everything in our power to make your stay as comfortable, relaxing and enjoyable as usual.
Andrew and Abigail, May '20